GSoC 2019: Chord Symbol Playback - Week 7
We're past halfway through the official period!
So far
The last day I've beeen flying and having some issues with airport wifi so I apologize for the late blog pose (I'm home now though! :)). This week, I've been full speed ahead on voicing algorithms. I've got some kind of version of a few different algorithms and you can see them in action here: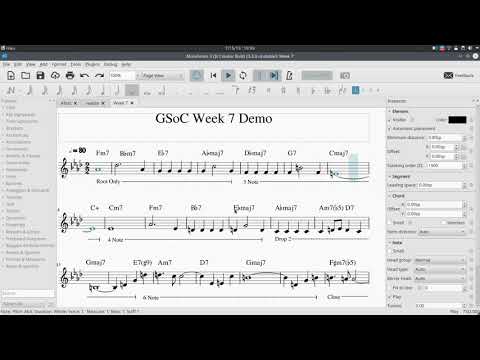 And here is a look at the actual notes produced by a few of the algorithms for sparse and dense chords:
This is of course not perfect and you can see some issues here with some interesting note placements. In the video you can see some issues with notes and the melody and other issues with muddiness. Certain chords are better voiced with different algorithms which is expected. This will be polished in the coming week.
One realization I've had is that there isn't too much of a substantial audible difference between the different voicings. Of course if we're looking at 3 note voicings compared to close position voicings for a big chord there will be a difference, but in general the difference between voicings is fairly small. In any case, though, it was good to experiment with different ideas and see how they pan out.
This week
This week the plan is to clean up the backend and revisit tests and TODOs. I believe that the project is fairly functional now, but needs to be cleaned up so that it can be more easily expanded on in the future and so that it is easier for users to use. Also I'll need to test the code more intensively to prepare it for users. There's still a lot that can be done, but at this point I want to make sure that it's well presentable and clean before moving on to "non-essential" features. Also, I will look into the auto feature which can potentially pick different voicings for different chords and take into account the melody when voicing a chord directly.
See you all next week!