GSoC 2019: Chord Symbol Playback - Week 4
We have some behind the scenes playback!
So far
Last week I was focused on making behind the scenes playback work. This is one of the pretty big steps in my opinion for the project as it allows for users to take advantage of this feature a lot more easily. To get something played back, there's nothing needed (in addition to adding the chord symbol) to get the chords symbols played back. We use the same voicing algorithm as before to render the midi. Here is an example of this in action: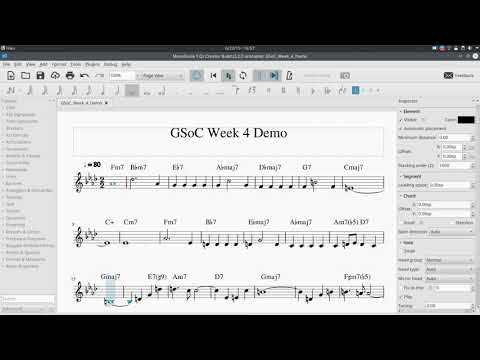 Additionally, there is an inspector option so we can choose to play or not to play the specific chord symbol.
Moving Forward
Moving forward, we will try to make the project a little more presentable visually and also more flexible and useful. That will mean more algorithms, quality life changes and options, and a good user interface (especially for the 'Realize Chord Symbols' tool option). To supplement development, I hope to begin writing tests for new algorithms as well. This way, we can get us closer to a fully presentable product before we begin to work on additional features.
This Week
This week I would like to improve the UI and begin to work on other algorithms. I'll be on a couple airplanes in the next day, but hope to be working at least for part of the plane rides and will be able to push the changes when I arrive.
See you all next week!