MuseScore 4 is OUT NOW!
UPDATE - March 13, 2023: MuseScore 4.0.2 has now been released.
This patch release release fixes loads of issues, and also includes some important usability improvements as well as a ton of engraving enhancements.
All the details about this version can be found here on Github.
---
UPDATE - January 13, 2023: MuseScore 4.0.1 has now been released (see changelog).
---
This announcement is available in other languages. See links to translated versions below.
---
Hey everyone,
Today, we are delighted to announce the release of MuseScore 4 along with our new orchestral playback library Muse Sounds!.
---
To install:
Click the main Download button for your operating system
This will download the Muse Hub installer, which allows you to install MuseScore 4 and Muse Sounds
Linux users need to click the "Download AppImage" button to install MuseScore, and also the text link "Muse Hub (for Muse Sounds)" directly below in order to get Muse Sounds.
---
For those wanting to download a Windows or Mac version of MS4 without the Muse Hub, please use the appropriate text links at https://musescore.org/en/download.
---
Watch our release video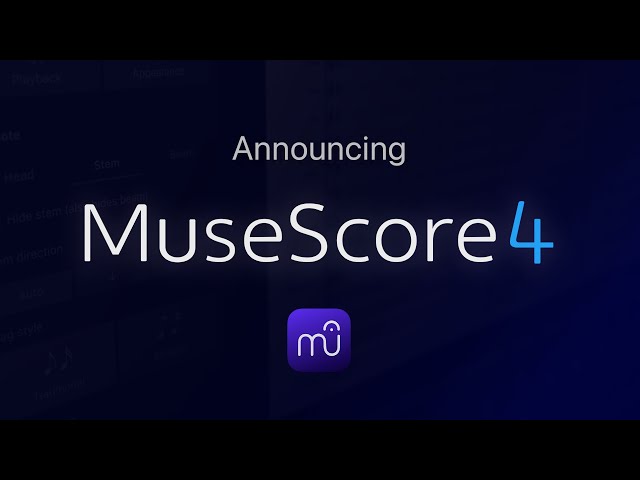 What's new in MuseScore 4?
Our new orchestral plugin, Muse Sounds
Saving to cloud on MuseScore.com is now working
An improved system for publishing to MuseScore.com
A simple toggle for switching between playback profiles (MS Basic and MuseSounds)
---
An entirely new interface
- 400 new icons
- customisable colours
- A new Home tab which includes recent scores, plugins and video tutorials
- A new, friendlier onboarding process
---
An engraving overhaul
- New system for horizontal spacing
- New system for slurs and ties
- New system for beaming and cross-staff beaming
- New, heavily revised version of Leland and Leland text
- System objects can appear on more than one system (although this is currently only available on certain templates)
- Hundreds of other smaller fixes and optimisations for lyrics, articulation placement, tremolo marks and general positioning
- For a more comprehensive explanation of the engraving changes in MS4, please see this document. https://musescore.org/en/node/330793
---
Multiple workflow improvements
- The Properties panel (formerly the inspector) is now much more responsive, easier to understand and filled with lots of useful options
- The capabilities of the note input bar have been expanded and the toolbar itself is now much easier to customise
- Customisable 'Tempo Lines', (accel, rit, etc.) that work with playback
- Scrollbars on the score
- Parts are easier to discover, edit and alter (using the new 'Instruments' panel)
- The experience of setting up a new score has been simplified to be more welcoming to new users
- Improved instrument definitions
- A new tuplets toggle
- New articulation buttons
- A new toggle for cross staff beaming
---
A new mixer
---
VST instruments and effects support
- Please note that we will be building additional tools, like automation and MIDI mapping in later releases, once MS4 is out
---
Accessibility improvements
- A new keyboard navigation system that follows best practices to allow users to quickly move around the interface
- Improved screen reader support (in particular, we really need people to test and provide feedback on this)
- An editable high contrast mode
---
Incompatible features we will re-introduce in later releases
There are other features that have not played nicely with our new systems at all, and which will need to be replaced in later releases, namely: the plugin creator (which we want to rewrite completely as a priority), the score comparison tool and the 'Documents side-by-side' feature.
---
Read this announcement in other languages
These translations have kindly been provided by members of our community:
Or you can use Google Translate to view it in other languages.